Experience
muse.ai | Co-Founder & CEO
2018/11-present | Worldwide
Performed a complete reset of the company's direction from sports search into general video search.
Setup guidelines for new designs and implemented the first versions of many of the core systems.
Launched the most advanced multimodal in-video search solution at an affordable price to everyone.
muse.ai | Co-Founder & CTO
2015/3 – 2018/11 Worldwide
Designed and implemented a proof-of-concept Video Search service, as well as a myriad of other systems.
Refined Machine Learning methodologies to improve the understanding of auditory and visual content.
Created guidelines and processes to hire, train, and increase the productivity of the team.
Morgan Stanley | EAI Accelerator Group
2011/09-2015/05 | London
Member of the strategic group responsible for cross-technology libraries and platforms used by the entire firm.
Created a state-of-the-art platform for Rapid Hardware Development bridging a number of software development concepts with hardware design methodologies.
Designed and implemented a proof-of-concept for an Ultra-Low-Latency FPGA-based trading system including IP Cores for: UDP/IP, Book Building with Ultra-Fast Order Sorting, Matching and Crossing Engine with Pricing and Crossing rules.
Proposed and guided an academic collaboration which resulted in the creation of ScalaHDL and an IEEE paper1.
Implemented a documentation scheme that extracts text and examples directly from source code.
Designed and implemented a Graph Database using MongoDB with a reactive web-based front-end for suggestive and intuitive graph traversal.
Managed teams to successfully deliver a myriad of projects including: a Total Order Communications Scheme; ULL FPGA-based Memory Cache-system; PubSub bridge used for market data distribution; benchmark a range of SerDes schemes (e.g. SBE, GPB, Fast, C-structs).
Actively engaged in recruiting and mentoring new hires including talks at Imperial College and Oxford University.
J.P. Morgan | Analytics Strategic Group
2010/09-2011/08 | London
Member of the Athena Core team which is responsible for developing, maintaining, and supporting a state-of-the-art platform for trading and risk reporting. This system included the trade-model; a globally replicated high performance database (C++), a graph-based RAD programming language (on top of Python) with a custom IDE, and the entire surrounding ecosystem with its scheduler, logging, GUI-widgets, web services, and messaging.
Imperial College | Circuits and Systems Group
2010/03-2010/08 | London
WebCanvas | Founder & CEO
2008/1-present | London
Invented, developed, deployed, and maintain WebCanvas. This concept implements an infinite canvas where anyone can paint and watch others paint. This project won second prize at London Start-up Camp in 2008, and has been featured on BBC's Technology program:
Surrey Satellite Technology | GNSS Systems Engineer
2004/09-2006/04 | Guildford, UK
Presented work at NASA's Office of Digital Design conference MAPLD 2005 Int. Conference: submission 168.
Developed hardware (FPGA design) and software (Low-Level drivers) that are space-borne onboard GIOVE/A.
Developed a C++ GUI application to process and visualize data originating from a space qualified GPS receiver.
Assembled and tested band-pass filters for GPS signals.
European Space Agency | Junior Satellite Engineer
2000-2001 | Noordwijk, NL
Pioneer in the Student Space Exploration & Technology Initiative.
Participated in European Space Agency's 4th Student Parabolic Flight Campaign.
Coded in C and OpenGL a 3D simulation of the effects of electrical fields on a charged particle in Zero-Gravity.
Publications & Talks
Ph.D. Thesis | Imperial College London
Accelerating Iterative Methods for Solving Systems of Linear Equations using FPGAs, Imperial College, 2010. The application of these methods was demonstrated using state-of-the-art Model Predictive Control systems.
Papers
ScalaHDL: Express and Test Hardware Designs in a Scala DSL, ICCD 2014: 521-524.
A High Throughput FPGA-Based Floating Point CG Implementation for Dense Matrices, TRETS 3(1) (2010).
A Fused Hybrid Floating-Point and Fixed-Point Dot-Product for FPGAs, ARC 2010.
More Flops or More Precision? Accuracy Parameterizable LE Solvers for Model Predictive Control, FCCM 2009.
A High Throughput FPGA-based Floating Point Conjugate Gradient Implementation, ARC 2008.
A Floating-point Solver for Band Structured Linear Equations, FPT 2008.
FPGA Design of an Integrated CAN and EDAC for Spacecraft Applications – NASA, MAPLD 2005.
Talks
How Artificial Intelligence Sees, Hears, and Relates Concepts – Lisbon, 16/11/2017.
Modern Big Data Systems for Machine Learning – London, 10/07/2015.
Scala in Finance – Open Source Quantitative Finance – London, 02/04/2015.
The Bitcoin Innovation – University of Oxford – Oxford, 28/10/2014.
FPGAs in Finance – Imperial College London – London, 14/10/2014.
STAC – Hardware Acceleration Today – London, 04/12/2013.
Next Generation Networks – The Path to Zero Latency – London, 17/09/2014.
Bitcoin Analytics and Statistics – Python for Quants – New York, 14/03/2014.
What is Web 2.0 and how it changes almost everything – London, 14/05/2009.
More FLOPS or More Precision? Equation Solvers for Model Predictive Control – London, 23/03/2009.
An FPGA-Based Floating Point Solver for Band Structured Linear Equations – London, 23/03/2009.
Conjugate Gradient: Optimizing FPGA Speed using Custom Precision – London, 19/11/2008.
Education
CQF Institute | Certificate in Quantitative Finance
2014-2015 | London
Highly comprehensive and pragmatic quantitative course divided into 6 modules with a final project.
Final project involved the implementation of a portfolio analysis and construction using Black-Litterman.
Imperial College London | Ph.D. in Scientific Computing
2006-2010 | London
University of Surrey | Electronics & Computer Engineering
2002-2006 | Guildford
Graduated top of the class with First Class Honours.
Final year project involved the integration of a GPS receiver on an FPGA.
Presented at NASA's Digital Design Conference in Washington D.C..
Other Interests & Hobbies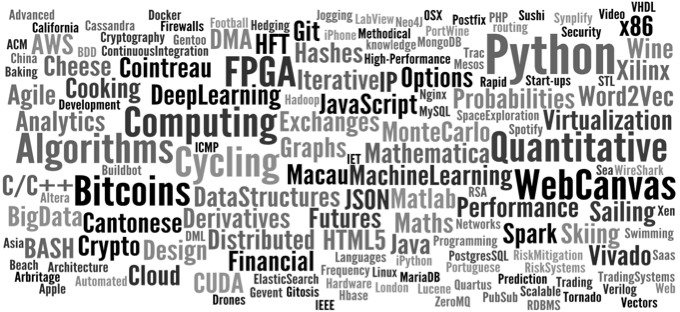 Ërdos Number: 4